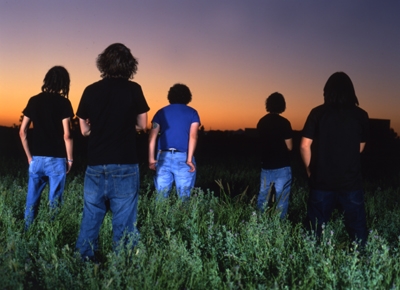 Not Quite Bernadette will be cancelling all further plans. We'd like to thank every single amazing person who has made the last three years so incredible; whether you let us sleep on your floor and hang out, talked to us after a show, bought some of our merch to help us out with gas, smiled with us, or even just gave our music a chance. We have made so many wonderful friends through all of this, and we hope not to lose that. We love you all very dearly.

This does indeed mean that our show on Saturday is cancelled, and we won't be making this record. We hope you all understand. The demos are all now available for download on our purevolume site. We also have a small bit of merchandise (tshirts, hoodies, cds) left, so if for any reason you want any of the last of it email us and let us know: we'll be giving it away cheap if you are interested.

As one chapter ends, a new one begins. Nick and I (Travis) are continuing on creating music together, and you can check out some VERY rough demos at www.myspace.com/youngling.

Robert is back in the band he was with before he joined up in NQB, with good friends Chris and Luke. They make incredible instrumental music, so make sure you go rock their stuff at www.myspace.com/kirschisamonster.

Also, if interested you can check out some of my solo stuff I've been doing on the side for a bit now at www.myspace.com/willburr.

We all love music, that will never change and I don't suspect any of us to ever stop playing. We'll keep you updated with what the other members are doing, and hope you find that while Not Quite Bernadette has come to an end, many new and beautiful things are blossoming out of it.

Being that our show on Saturday is cancelled and all, everyone in Arizona should head out to Neckbeard's instead on Sunday. Our good friends Dear and the Headlights will be playing with The Firebird Band, and well...they are amazing, so hopefully we'll see you out there.
Thanks again everyone for all the amazing times. And don't worry, I am sure we will see you all again soon, in some way or another. :)

Love,
Travis & Not Quite Bernadette